Apply Amazon seo strategy that Get a 320% Increase in Sales in Less Than 10 Minutes  and you need to improve your Amazon higher search rankings and get more traffic and conversions . It will help you reach more valuable leads that are interested in your products.
Amazon is one of the largest and fastest growing retailers on the web. Many businesses sell products on Amazon, so if you want to help your business stand out and reach more customers, you need to use Amazon search engine optimization (SEO).
How does Amazon SEO work and take steps to optimize your own listings?
In amazon is the starting point for  60 percent of people looking for products, while 40 percent people find something suitable on Amazon. Another 51 percent will look to Amazon for price comparisons and alternative options before making a purchase decision.
As an Amazon seller, you need to grab a piece of that product discovery action in order to be successful.
Be an FBA seller [amazon prime]
Get amazonPrime  badge is  reach the millions of Prime shoppers who want that two-day shipping. To become a Prime seller, you simply need to sell via Amazon FBA program, as a vendor, or as a Fulfillment-by-Merchant seller who is approved to sell Prime.
Best low Price is  big factor, with shoppers looking for the best deal. Stay on top of pricing, both to get the click-throughs and hold the buy box. Sometimes, pricing can be tricky. You might be selling products for too high or sometimes even too low! Use an A/B testing application like Splitly to find your product's optimal pricing.
high quality clear image trends to be the shoppers eyes gains
Optimize your Amazon listing title.
Your listing's title is the most valuable real estate on your Amazon product listing.
Your product title is the part of your listing that will have the greatest impact (both positive and negative) on product performance in search.
Brand.
Product line.
Material or key feature.
Product type.
Color.
Size.
Packaging/Quantity.
The secret to an effective title is how you order these elements, along with one other major ranking factor: additional target keywords.
keyword order and keyword choice can dramatically influence Amazon product sales and rank.
Yes, the number of characters in the title!
Titles in organic results typically have between 115-144 characters depending on the product/category.
Titles in right rail ads have around 30-33 characters and mobile titles have between 55-63 characters.
We must place the absolute most relevant keywords first.
This has both practical and algorithmic implications.
we want to make sure every customer, regardless of search result location, knows exactly what we're selling.
Anecdotally, the algorithm correlates higher relevance with keywords that appear earlier in the title.
list of your most important keywords and strategically placing them before each character breakpoint in the title.
Amazon's style guide recommends leading with the brand name.
Both shoppers and Amazon are wise to this and it's no longer effective and may result in an adverse impact to sales.
Whether you have an existing listing or a brand-new one, chances are you can always make some tweaks to help optimize for more visibility and sales.
The challenge with a brand-new listing is you don't have any product data to important to see what's currently working for your competitors 
My two favorite tools are Helium 10 – Magnet and Keyword Inspector.
we can use Amazon PPC to gather data on which terms help our listing convert and optimize for those keywords. 
The way you format your title will affect where you appear in the search results. It's important that you include all vital elements into your title.
The general format for creating a product title is:
[Brand] [Feature] [Material] [ Key Ingredients] [Product Type] [Model Number] [Size] [Package Count] [Color] [Flavor]
This is the general rule of thumb for how to order your title. These categories may not all apply to your products, but you want to use the ones that do. The order of your title impacts how your audience finds your listings
When you optimize your title, you want to place your most relevant keyword first. This ensures that people always see your most important keyword, regardless of how short or long the title appears in the search results. It also helps your listings appear in the most relevant search results.
Use the keywords the shopper is likely to be looking for and avoid lengthy titles that are difficult to read.
even second as a comparison, it's important that your listings are optimized for those searches.
Make use of special characters, like the ones below, to add some style and naturally break up phrases:
While the bullet points don't directly impact your rank in the search results, they are an opportunity to influence two very important factors in the Amazon SERP:
Conversion rate.
Product relevance.
The listing bullets are an opportunity to present the features and benefits of your product.
the market and the algorithm will penalize you for this type of behavior.
These terms are not visible to customers, yet get indexed just like the terms in your bullets and description — similar to the now-outdated meta keywords HTML tag.
This is a great place to type any terms that will compete and long-tail searches as well.
Earn a best-seller badge.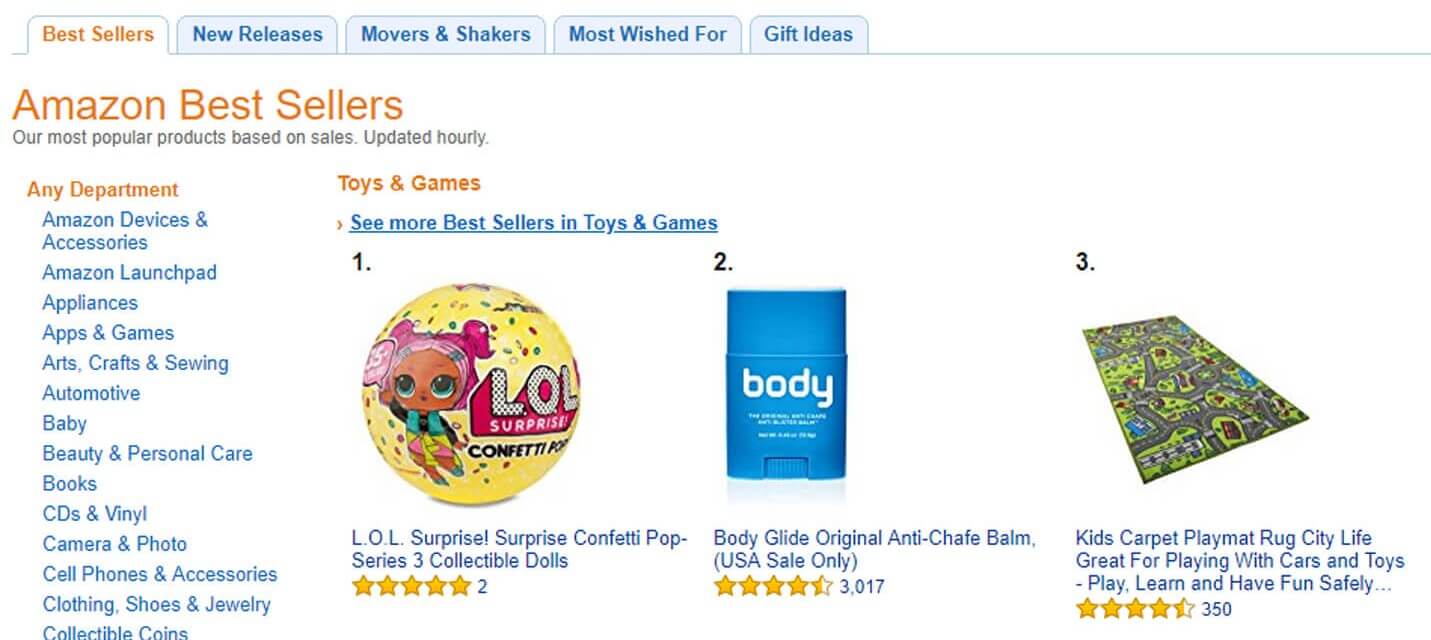 Earn best seller badge is a good look for your product and increase sales .
amazon  searcher experience based on the keywords used, Amazon's A9 algorithm is different.
Amazon searcher making a purchase products are displayed in search results by looking at performance (better sales history will rank higher), and relevance for the keywords used in the search query.
Amazon is about buyers. Optimization is about buyer searches and preferences.
You can find Amazon's seller guidelines for keywords here. It's important to note that they recommend you put words in a logical order when entering a search term. Amazon counted each word individually anyway,here are a number of free keyword tools you can use to help with your search (Keywordtool.io, Google Keyword Planner, etc.). Google can be useful for narrowing down potential terms,  you're looking for buying intent. You might find tools such as Keywordtool.io helpful because they use autocomplete from Amazon data to come up with suggested terms.
As a general rule, use the fields that Amazon provides you with to put in as many relevant terms as possible.  Amazon reserves the right to not use all supplied keywords anyway.
Factors such as degree of text match, price, availability, selection, and sales history help determine where your product appears in a customer's search results.
By providing relevant and complete information for your product, you can increase your product's visibility and sales.
Your best bet is Keyword Scout offered with the Jungle Scout Web App suite of tools. Keyword Scout actually gets broad and exact match search data from Amazon.
It also shows you headline search ad, and pay-per-click costs (broad and exact). Plus, it gives you product giveaway unit recommendations to help with promotional giveaway campaigns.
You get a number of different fields to fill out on your product listing, but Amazon's algorithm works by placing more priority on the keywords in the product title. This is where your most relevant keywords should which a customer might actually type into a search.
Priority and fields go like this:
Product title – your top or most relevant keywords. Use Keyword Scout to find your best keywords.
Bullet points – keywords related to product use and benefits.
Product description – this is the place to persuade the customer that your product is a good match for what they were searching for.
You can include more detailed information to back up the keywords you've used.
Seller Central backend search terms – these keywords are not visible to the customer but should include all those important keywords you couldn't put into the title or bullet points.Prioritize your Amazon keywords to put the most relevant in the title
Getting a better click-through rate for turning up in a keyword search is a good way to boost your search ranking. This sends signals to Amazon that your product does match what buyers are looking for when they search for the particular term.
Improve your conversion rate (unit/session percentage)
Click-throughs need to have the sales coming as a search ranking results and Amazon SEO – getting more sales than the competition can push you in search results
amazon  lisitng  is complete and that all relevant information is included. A customer may not buy if they click on a listing, but don't find the information they need within it.
The other thing is to ensure that your product description and bullet points clearly match up with your product title and photo.
amazon seo strategy to drive more sales is to send more traffic to your listing. It's a good idea to do this both internally, through advertising or promotions with Amazon PPC, and externally, such as through Facebook or Google advertising in sales which helps to drive up your sales ranking, but you'll also have to work to maintain your sales momentum.
Getting more reviews and ensuring that you are priced competitively are also good strategies for conversion rates, as well as those click-throughs.
Amazon cares about buyers and selling stuff to those buyers.
Amazon  fulfill the dual roles of marketplace and product search engine for many millions of people turning to Amazon first for product sea
Backend search terms are also a great place to drop some Spanish terms, misspellings and words commonly used in your niche.
As for misspellings, Amazon says they account for them but our experience shows otherwise, so we include them.
Utilize backend search terms.
keep using your Helium 10 – Scribbles Tool to knock out the remaining terms you didn't capture in the title, bullets and description.
Just separate the terms with a space. Another thing to note is you don't need to duplicate keywords in your listing.
Once a term is typed in the title, bullets, description or back end search terms
Get real insights on how to beat your competitors.
What Keywords are popular
What Keywords are your competitors ranking for?
How are the competitors placing their Product Titles
Reviews
 Again Reviews are an important aspect for the sellers. They offer a huge amount of information for your competitor's product. How many reviews have your competitors got therefore determining where you stand. More Reviews (Good ones definitely!) more the competition.  You can use it to your benefit as well. Is there anything that jumps out of the competitor's review that you can improve upon.
Who Are The Sellers
 Look at who the sellers are. Is Amazon selling the product, if so it'll be difficult to compete with Amazon? Their scales give them better pricing. You wouldn't want to mess with The Big Daddy!! See the Other Sellers on the Product Page. That's your true competition. If there are a lot of Sellers for the same product its best avoided unless you can provide a different feature or advantage over your competitor.
Pricing
 it's Amazon so competing on price isn't a good strategy because it would eat into your margins and eventually mean selling the product will not be worth. Look at how you can provide the products that are similarly price yet different.
Listing Quality- Attack on this point! The quality of the listing, including keywords and descriptions, may be something we can improve as compared to our competitors. Look at weaknesses which you will be able to correct:
Lack of keyword use
Very short description
Weak bullet points
Missing information
Low-quality images
What more can you add
Look for the signs which suggest that this is a product that has demand from buyers and competitors who you can compete well against.
Long tail keywords help customers identify your products more accurately. When a customer uses a highly specific search phrase, they tend to be looking for exactly what they are actually going to buy. If your product is appealing (going by the image quality, product description, product title guidelines) you're sure to make sales.
One major mistake new Amazon seller make is creating a "me too" product. What that means is they create products that are exactly same as their competitors but doesn't add any extra value. This is not the way to build a great sellable brand. So, following are the ways you can stand out.
Find What's Working– The best way do this is to look at the Best Seller category for a product. Look at the product images and you will quickly see what's drawing people. Having boring manufacture content isn't going to help conversions.
Differentiate yourself from your competitors by providing more product data. Always give the user as much information about your product as you can.
Avoid huge walls of texts, use easy to understand language, take advantage of formatting techniques like bullet points, bold text etc.
Check Out What's Not Working– Look at the reviews for this. You will get an idea of what not to do with your product.
Aggregate Your Findings- With the above steps you will be able to focus on which problems to tackle first. Ask questions like what will make this product better, what modifications to make etc. Work towards it.

You're not allowed to influence or incentivize reviews, but you can do your best to collect more of them. Shoppers will often look at the average star rating and number of reviews as they are displayed with your search result.
Amazon knows the importance of its review system. Therefore, it has also warned of legal action on publishing fake reviews. Customers trust that they can shop with confidence on Amazon.
amazon Reviews provide valuable market intelligence.
Smart sellers monitor Amazon reviews.
Reviews play an even more important role for third-party merchants.
It helps to understand the psychology of the customer and thereby helping in making better business decisions.
Encourage people to leave feedback by including a review prompt in the parcel or in your emails. 
Don't be afraid of the occasional negative review or seller feedback. It's not realistic or truthful to have a 100% positive feedback.
amazon Reviews are a crucial part of any business. They can be the reason a person buys your products or decides to pass. you manage product reviews to help improve your Amazon SEO campaign.
the products in the top of Amazon's search results generally have four or more stars. These are products that have great reviews and people enjoy. You want to encourage your audience to leave feedback about their experience with your products.
When your audience leaves feedback, there's a good chance yo will receive negative reviews. As part of managing your reviews, you need to take the time to respond to negative reviews. It will prevent you from deterring future customers.
Your response to negative reviews allows people to see how you handle negativity. If you address the issues, offer to replace broken or damaged products, and respond to questions, you will encourage more people to buy your products.
They will feel more confident that your company takes issues seriously and that if they have an issue with your products, they know you will respond.
This will lead to more conversions and positive reviews. It will improve your rankings in Amazon search results.
Images play a vital role in the purchasing process. People need to see products from different angles to get a better sense of how the products look.
It help build confidence and trust with your audience — especially since they can't physically see the product in front of them.
Amazon encourages you to use product images that are larger than 1000×1000 pixels. This is because they have a zoom feature that allows users to zoom in one images when they are above that dimension.
If you want to provide a more positive experience for your audience, you need to use images that are larger than the previously stated dimension.
The ability to zoom in can potentially increase sales for your business. People can look at your products more in-depth and get a better sense of how it looks.
It becomes even more beneficial when you post multiple photos with different angles where an audience can use the different zooming features.
Adding zoomable images doesn't directly impact your Amazon SEO, but it does improve your conversion rate.
When you earn more conversions, you improve your listing's ranking. It can also help you earn more reviews, which also positively impacts your product listing's performance.
amazon Pricing is an important factor for consumers. They want to get the best product for the least amount of money. When you post your product on Amazon, you need to look at how your competitors' pricing.
If you're selling your product for $100 and all your competitors have a similar product for $20 – $30, you won't help your Amazon SEO campaign.  Your audience will choose a cheaper product that suites their needs.
To have competitive listings, you need to see how your competitors are pricing products similar to yours. This will help you get a better idea of how to price your product and see if your product can even compete amongst the competition.
When you post a product, you probably have a lot you want to say about it. After all, you really want to sell your audience on the benefits of your products compared to the competition.
When you do this, it is important that you break down your information so it is manageable for your audience to read.
The best way to do this is to break down your product descriptions into bullet points. It's an easy way for your audience to digest the information. People like when information is concise and easy to read.
Products with bullet points tend to convert better, too. People read the information more and feel more informed to purchase.
This helps improve your Amazon SEO ranking because you earn more conversions.
Amazon wants to optimize for buyers because that's how they make revenue too. Selling quality products with well-researched and optimized listings will go a long way toward helping your ranking.
it's important to understand how Amazon ranks products. The way people search on Amazon is different than Google, so there is a slight learning curve.
When people search for products on Amazon, they can only find your products if their search queries match your keywords. This creates a challenge because you must use keywords that your audience uses to find products .
Amazon's A9 algorithm focuses on displaying products first that increase purchase quantity more. The algorithm focuses on two factors: performance and relevance.
Performance is based on how well your products sell
relevance is based on how your keyword match the search query.
To choose the right keywords to get your products to rank. You need to offer products that best fit their queries. When you optimize your listings, you need to focus on the buyer's experience and how you can make it even better.
Amazon SEO keyword research has some similar qualities to traditional SEO, but with a few more buyer-focused attributes.
Ttraditional SEO, you want to focus on long-tail keywords. These are keywords that contain three or more words. When people search for products on Amazon, they use long-tail keywords to find products.
Long-tail keywords will help more interested potential leads keywords in your Amazon product listings. find your product listings. It is important that you focus on all relevant keywords. 
To help you figure out the right keywords for your Amazon SEO campaign, you can use a free tool called Sonar. This is a keyword research tool that focuses specifically on keywords that people use on Amazon. It helps you see the search volume for each keyword, which enables you to prioritize them in your Amazon SEO campaign.
Once you select your keywords, you need to integrate them into your listings. You need to use them in places like the product titles and descriptions. This will help your products appear in search results for those keywords.
 Get your products or your clients products to the top of Amazon's Search Engine Results Page (SERP), let me introduce you to A9. 
Amazons search engine algorithm has a name, it's called A9.  It has the sole responsibility of placing the right products in front of the right customers. Unlike Google, Amazon  is to send traffic to other sites but to find the product that will provide best sales conversion.
Immediate Sales
Verified Reviews
CTR Vs CTS
Sales Page Content
keywords text ratio, keyword density, headers etc. are essential to figure out what a page's content is about. Since we do not have much control over a product page here as we do in our blogs, we have to be extra careful about placement and structuring of content on Amazon.
A9 is the name of the algorithm Amazon uses for product search. it's definitely a maturing algorithm and will continue to become more complex over time.
 if you used a simple variation of a term, it would result in a very different search result.Amazon has improved their algorithm to include variations. if I do a simple variation, I should get very similar if not the exact same results.
A9 algorithm is getting smarter.
you still want to populate as many relevant terms as possible for your listing to show up despite variations and misspellings to increase your visibility, sales and overall rank in the search results.
Visibility.
Relevance.
Conversions.
you want to make sure  more customers must be able to find your products before they can buy your products. Search is the primary way that customers use to locate products on Amazon.
Customers search by entering keywords, which are matched against the information (title, description etc.) you provide for a product.

Factors such as degree of text match, price, availability, selection, and sales history help determine where your product appears in a customer's search results.

By providing relevant and complete information for your product, you can increase your product's visibility and sales. Below are some general guidelines to improve your product listings.
I will cover the different seo ranking factors in the categories:
Product.
Performance.
Anecdotal.
For anecdotal, there's no supporting Amazon documentation; however, w have seen a strong correlation between Amazon Search Engine Ranking Position (SERP) and these factors.
I highly encourage you to understand your contract with Amazon and their terms of service.
 Selection is named as one of the ranking factors, although we have not noticed a correlation between selection and the SERP.
You drive internal traffic via Amazon PPC and external traffic via outside ads like Facebook, Google AdWords, etc.
Ad to Amazon Listing.
Ad to Pre-Sell Page to Amazon Listing.
Ad to Squeeze Page to Opt-In for Single Use Discount Code delivered by email.
Ad to Product Sales Funnel.get in place is an email feedback sequence that communicates with buyers through the buyer-seller messaging service in seller central.
Two of our favorite tools are:
With these services, you can write custom email sequences to your buyers that help develop a customer relationship and ask for honest feedback and reviews.
If you'd like to launch a discounted product campaign in order to generate sales and reviews, I highly recommend working with Snagshout (same company as Feedback Genius).
What is the Amazon SERP?
The Amazon SERP are the results shown to users after completing a product search on Amazon.com. SERP stands for search engine results page.
What are some of the best Amazon SEO tools you suggest using?
Helium 10 – Magnet.
Keyword Inspector.
Keywords Everywhere.
You now know that Amazon's search engine algorithm has a name and you have a solid understanding of how it works.
Higher Conversion Rates– As consumers come to Amazon with the intent of buying.
The Unknown Algorithm – A9
Customers are increasingly reliant upon online reviews when making purchase decisions. Good Customer reviews lead to more sales.
Follow up with the customers regarding your product. This also leads to better reviews.
Question and Answer section is the most underutilized marketing opportunity of an Amazons product listing.
A unique feature is that the answers to these questions can be submitted by both other customers or by the sellers.
Showcase your product on YouTube. You have a  good demonstration about the product and people connect more. Its features, how it works, the price, your edge over the competitors gives a good understanding of your product to the customers.
After which they can approach your product with more confidence on Amazon.This helps in brand recall and drives extra traffic to Amazon. Since you have a face to your product the reliability is also more.
Be the first to know about our kavithaseoexpert Digital marketing blogs india tips:[Seo,ppc,Leads,Email,Sales,social,Strategy,Affilate marketing,Data Scientist Blogs,Digital entrepreneurs]follow us on  facebook,twitter,instagram,LinkedIn ,google plus or subscribe to our weekly newsletter. also get some free SE0  consultant in usa  by speaking with me over the phone or Skype @ kavithaseoexpert.
tags: AMAZON A10 ALGORITHM, Amazon A9 Ranking Algorithm, Amazon click-through rate, amazon competitors pricing, amazon FBA seller,kavithaseoexpert, amazon keywords research, Amazon listing title, Amazon Listings Product Optimization company, Amazon Marketing Services PPC Experts, seo service,amazon seo tools,amazon seo 2018,
amazon a9 algorithm pdf,how to get your product on the first page of amazon,amazon seo guide, amazon ranking software, amazon product ranking tool,amazon sales, amazon sale items, amazon seller support ,jungle scout chrome extension ,amazon sale 2018 ,amazon seller central orders ,how to sell a product online for free,Amazon PPC, amazon prime, Amazon Product Rankings, amazon Products Higher on Amazon, amazon rank products, Amazon Search Engine Optimization Strategies, Amazon Search Engine Ranking Algorithm, Amazon seller, Amazon SEO Company, Amazon SEO Expert, Amazon SEO keyword research, Amazon SEO ranking, Amazon SEO Ranking Algorithm Update, amazon seo services india, Amazon SEO works, increase Amazon sales, kavithaseoexpert, Long Tail seo Keywords optimization, Optimize amazon listing, Promote Your Amazon Listings,kavithaseoexpert.com
Amazon seo strategy:improve Higher Rankings fast+increase amazon sales
Amazon seo strategy:improve Higher Rankings fast+increase amazon sales
10